---

FitTrainers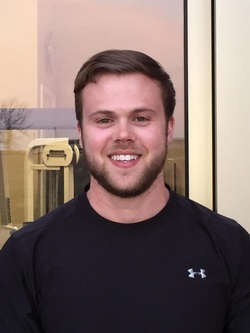 Joe Schmidt - Certified Personal Trainer

Joe offers one on one, tandem, or small group personal training and nutrition coaching. He can adapt your program for many different fitness goals including but not limited to: weight loss, muscle building, sports performance, post-physical therapy, and general wellness.

"I am a personal trainer who is interested in helping my clients see results and reach their fitness goals."

All of these services backed with over four years training experience, various credentials through nationally recognized training and health organizations, and a lifetime of athletics (soccer, baseball, basketball, xc, track, physique competitions).

Call Joe at 913-481-7799 or 913-638-6295 to set up a personal consultation to review your fitness and nutrition goals.

Email: josephschmidt.pt@gmail.com

---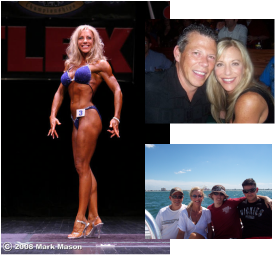 Chris Bremerman
- Owner/Personal Trainer/Nutrition Coach/Fitness Enthusiast
Chris discovered her love for fitness when she, like many women today, needed balance in her busy life. After leaving a successful corporate career, she decided to follow her passion and help others find that balance in their own lives.
Chris started
SuperFit!
personal training in 2004 to help others achieve overall fitness - a healthy body, increased energy, improved moods and increased self-esteem and self-confidence. Since then, she has trained over 100 clients in the area, and feels blessed to have a career that helps people reach their health and fitness goals.
She holds a Bachelor of Arts in Business Administration, personal training certifications from The Cooper Institute, multiple advanced training and education certificates, and serves as a Corporate Fitness Consultant and Kitchen Coach.
Chris, a "beach lover" , former corporate executive and figure competitor, provides a lifestyle change approach to your fitness program, teaching you how to get trim and stay fit...for life. Finally-make the permanent change to your body and your life that you have been craving! To Chris, there is nothing more exciting than seeing someone embrace and enjoy the easy lifestyle changes that she helps them incorporate into their lives, and the results that go along with these changes.
Complete nutrition coaching is included in all personal training relationships. Many of her clients have been with her for over 11 years-and they love the way they feel! Contact Chris by phone, 913-638-6295 or by
email
for your personal consultation.
---

Independent Fitness Trainers - Limited Openings Now Available
Contact us today if you are a professional trainer that puts your clients needs first and wants to work in a professional, private, nurturing atmosphere. Please contact Chris at 913-638-6295 for more information.