FitFood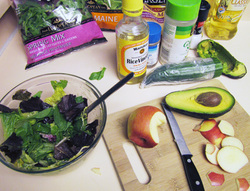 No matter how you slice it, what we put in our mouths makes up about 80% of our results. We just can't exercise off a bad diet. Trust us - we've tried!

So what do you eat? How much do you eat? When do you eat? How do you make it taste good? How do you also feed your family?

You have questions - we have answers! Your personalized nutrition coaching will include answers to all of these questions - and more. Because as always, your results are the only thing that matter!

---
SUPERFIT! PROTEIN MUFFINS AVAILABLE HERE
The best tasting, clean-eating, grab and go REAL FOOD snack - EVER!
Guarantee your success - keep these great tasting snacks in stocked at all times, or stop by and pick up at FitStudio.
Also available in your HyVee Health Market Freezer.